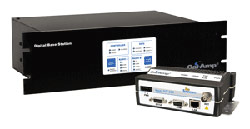 Designed for high speed industrial applications
Available from 6.25 to 50 kHz (200 MHz only)
Delivers critical data at speeds up to 128 kbps
Internal web browser offers device information, user configuration of network parameters and easy deployment from any location
Viper SC Series
Viper SC is a high-performance, long range, secure family of products designed to extend IP and serial networks over wide areas for fixed data applications.
Available for VHF, 200 MHz, UHF, and 900 MHz bands. Can run in Bridge mode or true Routing mode while providing repeater capabilities.
Viper Private Networks feature Auto Pilot operation. This multispeed functionality allows each remote Viper SC to communicate to a Viper SC Base Station at the fastest speed supported by a given signal strength.
The result is an adaptive network that is optimized for performance and reliability.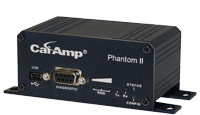 Low Power Consumption
Up to 1.2 Mbps Wireless Link Rate
Master, Remote, Repeater operation in a single unit
7-30 VDC Input Power
2 Serial Com Ports, 1 USB Port, and 1 Ethernet Port
Supports Point-to-Point, Point-to-Multipoint, Repeater, Peer-to-Peer
100 mW - 1 W Adjustable Tx power
Radius Server Support
Full VLAN Support (for separate management and Data networking)
User interface through local console, telnet, and web browser
Network management capability with SNMP V1, V2, V3
Local and remote wireless firmware upgrading through FTP
Quality of Service (QoS) Available for IP Protocols and Ports
Phantom II Series-FHSS IP modems for unlicensed spectrum
The Phantom-II delivers secure, wireless connectivity between Ethernet and serial devices. Operational in the license-free 902-928 ISM band, Phantom-II offers extraordinary data throughput for point-to-point and point-to-multipoint networks.
Typical uses include Ethernet bridging, SCADA networks, and other industrial automation or data collection applications. Phantom-II can provide connectivity between an Ethernet or serial base station and multiple remote devices, or it can function as a high-speed, transparent bridge between two Ethernet networks.
Guardian-Industrial grade radio modem
Designed for today's high-speed SCADA & Telemetry, Guardian networks provide a transparent 19200 bps digital link in a 25 kHz channel, or a 9600 bps digital link in a 12.5 kHz channel that is compatible with most protocols. Guardian is available at VHF, UHF, and 900 MHz, and supports RNet™ and COR™ brand radio modems via the Dataradio Interoperability Standard (DI-OS).
The guardian has now replaced the DL-3400 and the JSLM2 Analog products as well as the T-96SR and TSLM Digital units. It is fully backwards compatible including on-line diagnostics capabilities.
Supports Data Activated Transmit (DOX) or RTS/CTS flow control
On-line Radio Network Diagnostics to monitor and maintain your communications link
Diagnostic output supports OPC Enabled Diagnostics feature
Separate Application and Setup/diagnostics ports
Prevents transmission of any extraneous data bits
Approved for Non-Incinderary (Class 1, Division 2) by Factory Mutual
Front panel LED's
DIN-rail mount options available
Integra-TR-Narrowband radio modem for licensed spectrum
These programmable, transparent radio modems provide advanced features without complicated system setup.
It features CWID for identification and CSMA to minimize retries and reduce channel interference.
With enhanced diagnostics, it is the perfect choice even in the harshest environments. The Integra-TR is available in UHF and VHF frequencies and delivers error-free data at up to 19200 bps over the air in a 25 kHz channel, 9600 bps in a 12.5 kHz channel, or 4800 bps in a 6.25 kHz channel.
The Integra-TR is now available as Dual Bandwidth in 25/12.5 KHz or 12.5/6.25 KHz models; bandwidth is programmable.  
Select unit by licensed bandwidth as shown on your FCC license.
T-96SR-Radio modem and T-Base/R
Replaced by the Guardian product. A T-96 system will be fully compatible with a Guardian programmed as a T-96/TSLM compatible RF Modem.
DL-3400 Analog Telemetry transceiver
Replaced by the Guardian product. A DL-3400 analog or any other analog system will be fully compatible with a Guardian programmed as an Analog RF Modem.
TSLM-Wireless models for licensed spectrum
Replaced by the Guardian product. A TSLM system will be fully compatible with a Guardian programmed as a T-96/TSLM compatible RF Modem.
JSLM2-Telemetry radio for licensed spectrum
Replaced by the Guardian product. A JSLM2 system will be fully compatible with a Guardian programmed as a DL-3400/JSLM2 compatible RF Modem.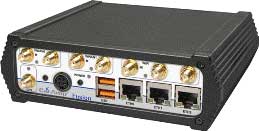 Band 13 or 17 LTE for public infrastructure
Band 14 LTE for private infrastructure
Superior RF performance with MIMO capabilities
Secure IPSec VPN connectivity
Autonomous WAAS enabled GPS with local and host reporting
24/7 world class, multi-technology single supplier support
Mission Critical Broadband Connectivity for Fixed and Mobile Applications
Fusion offers a single, flexible platform to address a variety of wireless communications needs with over-the-air configuration and system monitoring for optimal connectivity. This ready-to-deploy broadband router enables wireless data connectivity over public and private LTE cellular networks at 4G speeds.
Vanguard 3G-Broadband router for public networks
Vanguard 3G was built tough to provide reliable wide area CDMA or GSM cellular connectivity optimized for high speed, mobile environments with demanding data requirements. This intelligent broadband router incorporates a highly sensitive 16-channel GPS receiver and an intelligent algorithm that offers outstanding receive sensitivity and improved accuracy, integrity, and availability of GPS signals - even when the vehicle is off.
What's more, an optional built-in WiFi access point allows your tethered devices to remain connected even when you leave the vehicle.